"News Updates & Course Timetables"
NEWS FLASH
NEW EMERGENCY MEDIA TRAINING PLATFORM IS LAUNCHED
State of the art Crisis Communications Training and New Spokesperson Media Training 3 Hour Webinars created by WWP & ASSOCIATES are available and here are some of the rave reviews that we have received. Every single organization requires people to do this job. Now you can learn the tricks of the trade immediately. For only $99 it is affordable to everyone.
We have a revolutionary product that is:
75% cheaper

Takes 50% less time

No travelling expenses

Ensures privacy and comfort in your own space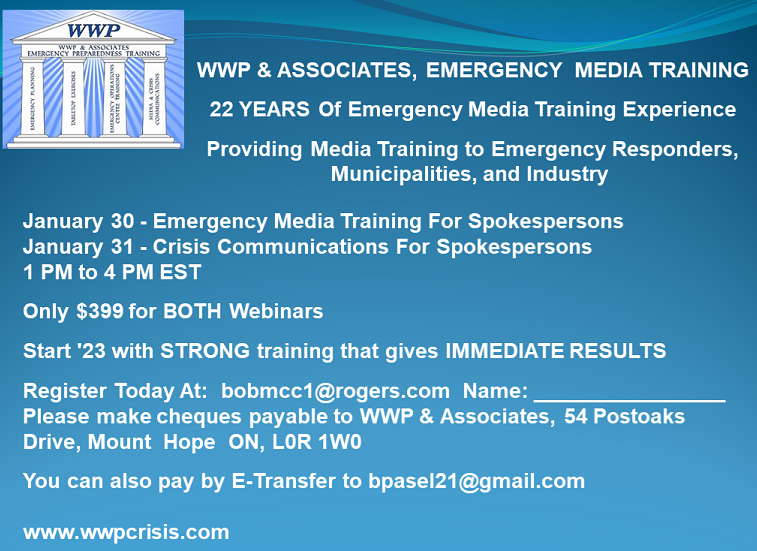 CLIENTS INCLUDE:
EMERGENCY RESPONDERS – Fire, Police, EMS
MUNICIPALITIES – Conservation Authorities, Hamilton, Vancouver, Montreal, Calgary, Fredericton St. John, Yellowknife, St. John's
PROVINCIAL DEPARTMENTS – Emergency Management, Regional Districts, Public Affairs, Ministry of Forests, Finance
FEDERAL DEPARTMENTS – Public Safety, Health Canada, National Defense, Fisheries and Oceans, Indian and Northern Affairs, Public Works
INDUSTRIAL – CN, Coal and Gas, Oil, BC Olympics and Paralympic Secretariat, Cadillac Fairview
View our course calendar or contact us now to book early. Workshops are from 8:30 am to 4:30 pm. Certificates of completion will be awarded. REGISTER HERE.
We Offer Onsite Media Relations Training
– let us come to you.
Professional Instructors
Our instructors are world class and in high demand. We come directly to your area and eliminate the travel for you.
Helpful Resources
We have put together a list of resources for invaluable information regarding emergency preparedness.
Relevant & Current
WWP & Associates prides itself on setting the standard for Media Relations and Crisis Communications strategies.
Book A Course Today!
What Our Clients Say…
"Took a 'Haunted House' and made it into a 'Bouncy Castle'. Way to go!!"
"I really like the group and one-on-one feedback to improve my interview skills. This teaching works in the real world."
"Appreciated the anecdotal story telling to illustrate key points. Enjoyed WWP & Associates level of engagement."
Recent Comments After Training
Following is a summary of the comments made by the participants in Friday's Media Spokesperson workshop with a large Fire Service in Ontario. Program content and skills of presentation leader were all rated at 5 out of 5.
When asked:
"What would you say about the presentation leader," here are their comments:
"WWP & ASSOCIATES are the Tom Brokaw of media relations in Canada". – HAMILTON ONTARIO POLICE
"WWP & ASSOCIATES know their stuff, have great presentation style and make the interviews a valuable learning experience". – REGINA ASSISTANT FIRE MARSHALL
"The presenters were extremely knowledgeable and personable. They created a great interactive learning environment which was thoroughly enjoyable". – ONTARIO MAYOR
"Brought REAL WORLD EXAMPLES . Showed good and bad examples. I loved it!!" – INDUSTRY, EDMONTON, ALBERTA
"Excellent."
"I am ready, I have my messages, release the media hounds!" – ALBERTA CROWN ATTORNEY
"She took the mystery and fear away."
When asked:
"What ideas/concepts are you able to incorporate into your understanding about communications," they said:
"Get a clear message out fast."
"Getting info out right away and not wait."
"Development of communications plan. Managing the media. Managing the message."
"The importance of planning, proactive messaging and the necessity of a communications plan."
"Be prepared prior to an event."
"Effective management of media situations."
"Really great Information that I will use."
"Great takeaways."
"So glad that I signed up."